JOHNNY WOULD YOU LOVE ME IF MY DICK WERE BIGGER by Brontez Purnell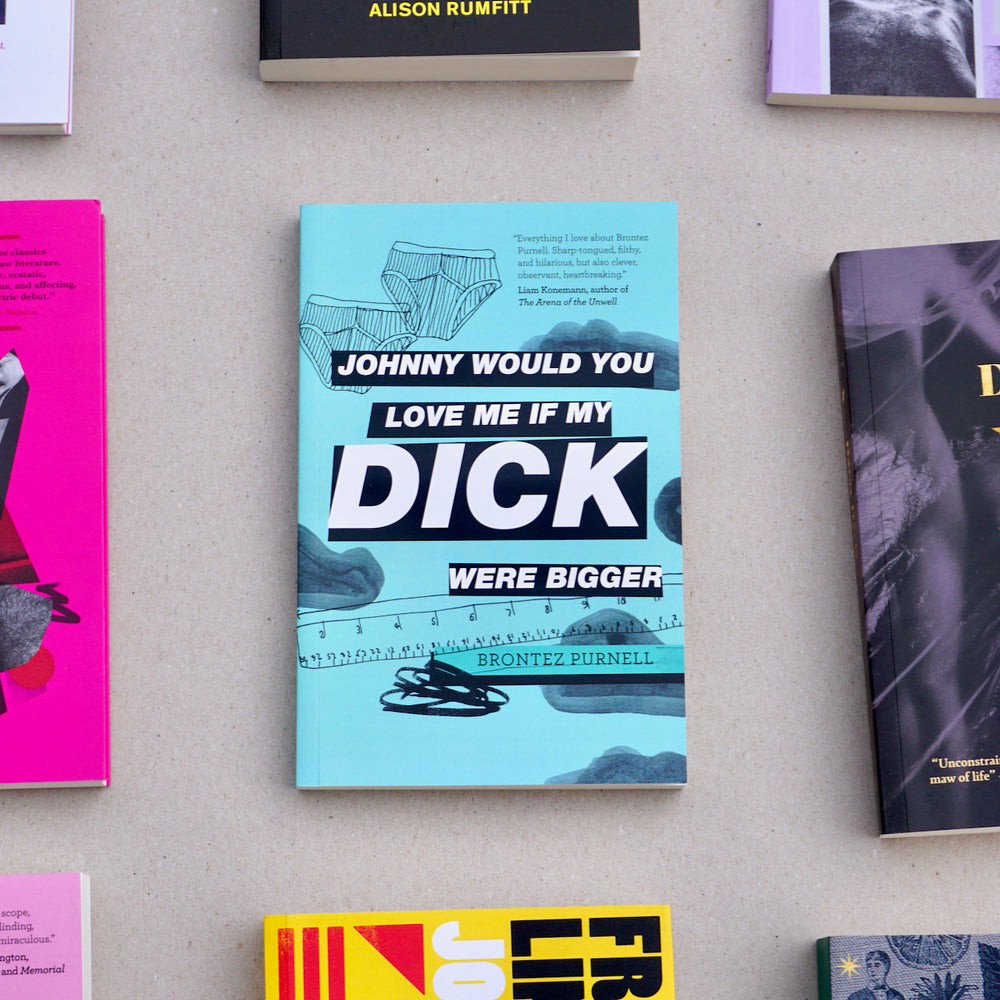 JOHNNY WOULD YOU LOVE ME IF MY DICK WERE BIGGER by Brontez Purnell
| | |
| --- | --- |
| Title | Johnny Would You Love Me If My Dick Were Bigger |
| Author(s)/Editor(s) | Brontez Purnell |
| Publisher | Cipher Press |
| Pages | 200 |
| Dimensions | 129 x 198 mm |
| Format | Softcover |
| Year | 2022 |
A raw, dirty, hilarious, and often poignant cult classic, Johnny Would You Love Me If My Dick Were Bigger paved the way for a new kind of queer writing that changed how we talk about sex, relationships, drugs, identity, race, HIV, and what it means to be gay in the 21st Century.
Recounting the life of an artist and 'old school homosexual' who bears more than a small resemblance to author Brontez Purnell, Johnny Would You Love Me takes us cruising in late night parks and bath houses, searching for sex and intimacy in a newly gentrified city where even the gays are getting fancy. A collection of short, hilarious, profound, and filthy vignettes, Johnny Would You Love Me is a radical thrill ride through the nuances of queer sex and queer love that shows truly what it means to live on the fringes of a conservative society as a black, working-class gay man.
Brontez Purnell is a writer, musician, dancer, filmmaker, and performance artist. He is the author of a graphic novel, a novella, a children's book, and the novel Since I Laid My Burden Down. The recipient of a 2018 Whiting Writers' Award for Fiction, he was named one of the 32 Black Male Writers of Our Time by The New York Times Magazine. Purnell is also the frontman for the band the Younger Lovers, a co-founder of the experimental dance group the Brontez Purnell Dance Company, the creator of the renowned cult zine Fag School, and the director of several short films, music videos, and the documentary Unstoppable Feat: The Dances of Ed Mock. He lives in Oakland, California.