SELECTED WRITINGS AND INTERVIEWS BY Maryanne Amacher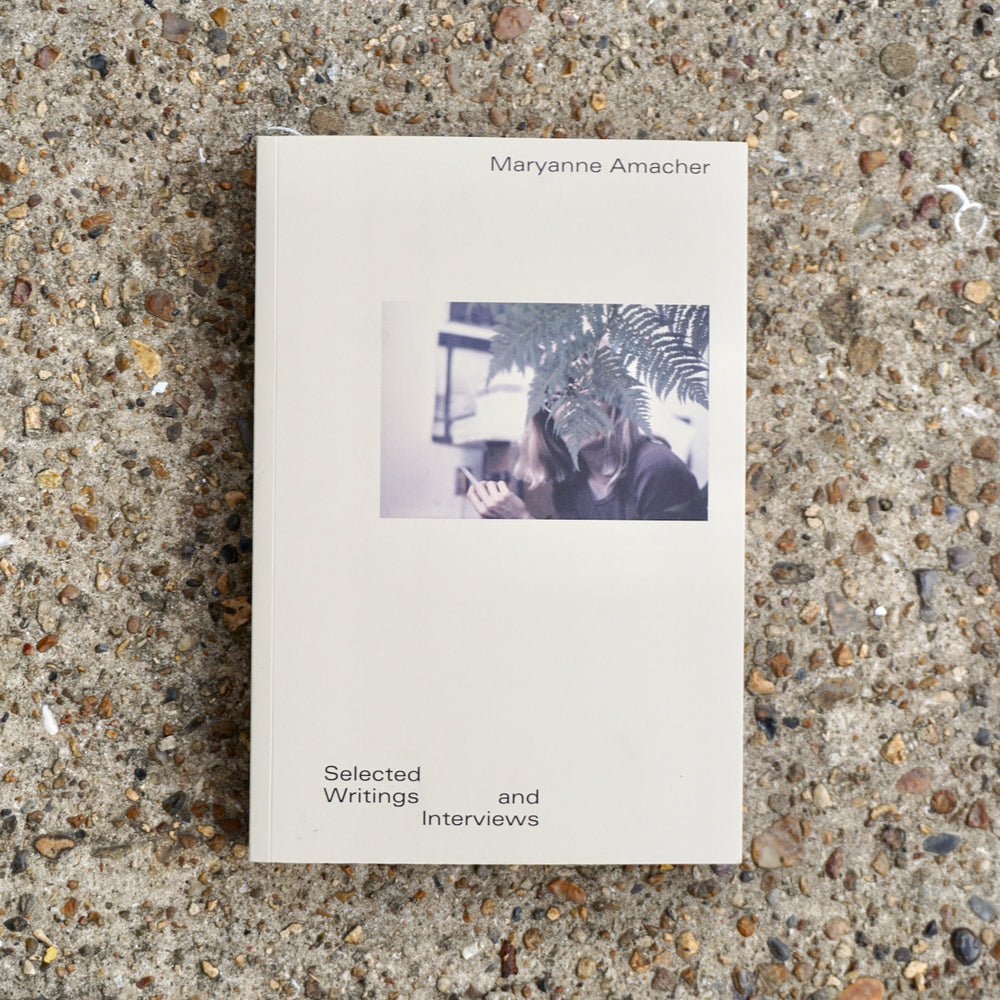 SELECTED WRITINGS AND INTERVIEWS BY Maryanne Amacher
| | |
| --- | --- |
| Title | Selected Writings and Interviews |
| Author(s)/Editor(s) | Maryanne Amacher |
| Publisher | Blank Forms Editions |
| Pages | 398 |
| Dimensions | 165 x 240 mm |
| Format | Softcover |
| Year | 2020 |
The life and work of Maryanne Amacher are as vast as they are little known. In this volume, Amy Cimini and Bill Dietz offer a heterodox and idiosyncratic selection of largely unpublished documents spanning the breadth of the papers included in the Amacher Collection. The chronologically grouped documents, ranging from private writings and letters to program notes, manifestos, and proposals for unrealized projects, are framed by interviews in which Amacher discusses corresponding periods of her life. This structure leads readers carefully into the composer's musical thought as it develops and transforms over time, while working strenuously against the definitiveness associated with "collected" writings. This study of a still-unfolding body of work approaches its materials as provisional, promissory and open-ended. Here, Cimini and Dietz have compiled a volume full of staggeringly rich primary documents, while probing the issue of what it means to assemble these materials while the question "who was Maryanne Amacher?" remains so open. This collection invites the reader to answer.
Because Amacher worked across nearly every imaginable media format, this book will be be of interest to theorists and practitioners of urban design, contemporary art history, media and communications, music and sound studies, film, radio, art criticism, and performance studies—in short, a configuration of disciplines that we might call an Intermedial Humanities. At the same time, this collection challenges any area of music, sound, or media studies that might be remade through the recovery of understudied figures. This volume is about doing things a different way. It is organized to foreground Amacher's voices and soundworlds so that—whatever future musical and social constellations might join the ongoing excavation of this practice—readers can experience her work in, and through, her own words.
At the time of this writing, the Maryanne Amacher Collection is currently being processed at the New York Public Library, stewarded by Blank Forms and the Maryanne Amacher Foundation.
Maryanne Amacher (1938 – 2009) was a composer of large-scale, fixed-duration sound installations, and a highly original thinker in the areas of perception, sound spatialization, creative intelligence, and aural architecture. She is regarded as a pioneer of what has come to be called "sound art," although her thought and creative practice consistently challenged key assumptions about the capacities and limitations of that genre. Often considered in light of post-Cagean art practices, her work anticipated some of the most important developments in network culture, media arts, acoustic ecology, and sound studies.
Bill Dietz is a composer, writer and co-chair of Music/ Sound in the Bard MFA program.
Amy Cimini is a musicologist, violist and Assistant Professor of Music at UC San Diego. Her first book, Wild Sound: Maryanne Amacher and the Tenses of Audible Life, is forthcoming in Spring 2021 with Oxford University Press.
"Amacher's electronic music work is paralyzing for its combination of extreme sound and precise architecture. The resulting propulsion is unrelenting and subterranean. This is a woman who would sleep in many of the studios in which she worked, forbidding anyone to disturb her. Supremely articulate, bold, and exacting in the demands of her work, she drew for us a picture of one of the most unusual minds in any field of art."
—Diamanda Galás
"An unprecedented entree into the life and work of one of the most transgressively creative composers of our time, this never-before-available compendium of Maryanne Amacher's scores, notes, and communications is an invaluable and inspirational resource for anyone interested in the history and practice of experimental creative practice."
—George E. Lewis, author of A Power Stronger Than Itself: The AACM and American Experimental Music
"Maryanne was an artist who didn't seem interested in names and definitions. I met her when she was teaching, but she was clearly not an academic… When I saw her play, I couldn't identify all the forces I felt, could barely catch hold of them. Her work is made of mysteries that linger in the mind, changing shape over time."
—Seth Price