100 BOYFRIENDS by Brontez Purnell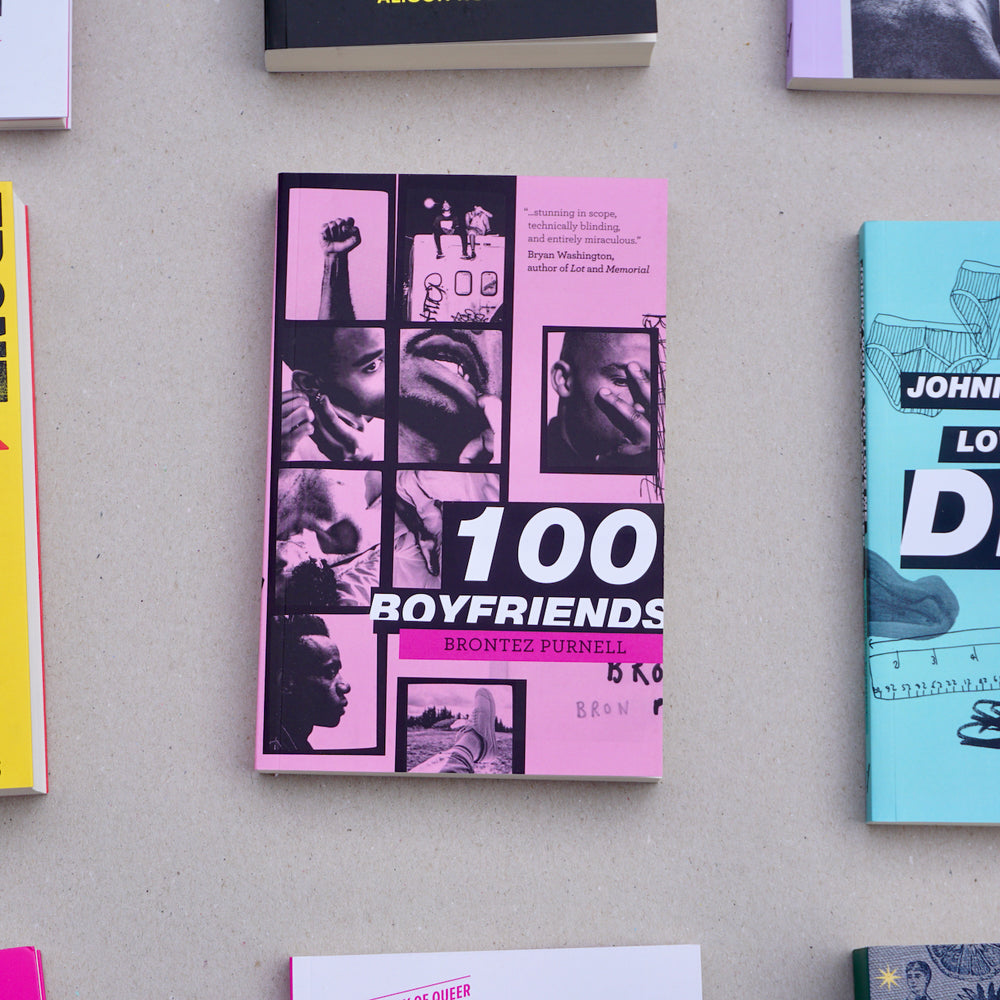 100 BOYFRIENDS by Brontez Purnell
| | |
| --- | --- |
| Title | 100 Boyfriends |
| Author(s)/Editor(s) | Brontez Purnell |
| Publisher | Chipher Press |
| Pages | 195 |
| Dimensions | 129 x 198 mm |
| Format | Softcover |
| Year | 2021 |
An irreverent, sensitive, and inimitable look at messy queer love through the eyes of a cult hero.
Transgressive, foulmouthed, and wildly funny, Brontez Purnell's 100 Boyfriends is a filthy, unforgettable, and brutally profound ode to queer love in its most messy of variations. From one-night stands to recurring lovers, Purnell's characters sleep with their co-worker's husbands, expose themselves to racist neighbours, date Satanists, and drink their way out of trouble, all the while fighting - and often losing - the urge to self-sabotage.
A horny, punk love song full of imperfect intimacies, 100 Boyfriends takes readers on a riotous journey through dirty warehouses and gentrified bars, from dysfunctional houseshares to desolate farming towns in Alabama. Drawing us into a community of glorious misfits living on the margins of a white supremacist, heteronormative society, iconoclastic storyteller Brontez Purnell gives us an uncompromising vision of desire, desperation, race, loneliness, and queerness that will devastate as much as it entertains.
Brontez Purnell is a writer, musician, dancer, filmmaker, and performance artist. He is the author of a graphic novel, a novella, a children's book, and the novel Since I Laid My Burden Down. The recipient of a 2018 Whiting Writers' Award for Fiction, he was named one of the 32 Black Male Writers of Our Time by The New York Times Magazine. Purnell is also the frontman for the band the Younger Lovers, a co-founder of the experimental dance group the Brontez Purnell Dance Company, the creator of the renowned cult zine Fag School, and the director of several short films, music videos, and the documentary Unstoppable Feat: The Dances of Ed Mock. He lives in Oakland, California.