NOTHING BUT THE MUSIC by Thulani Davis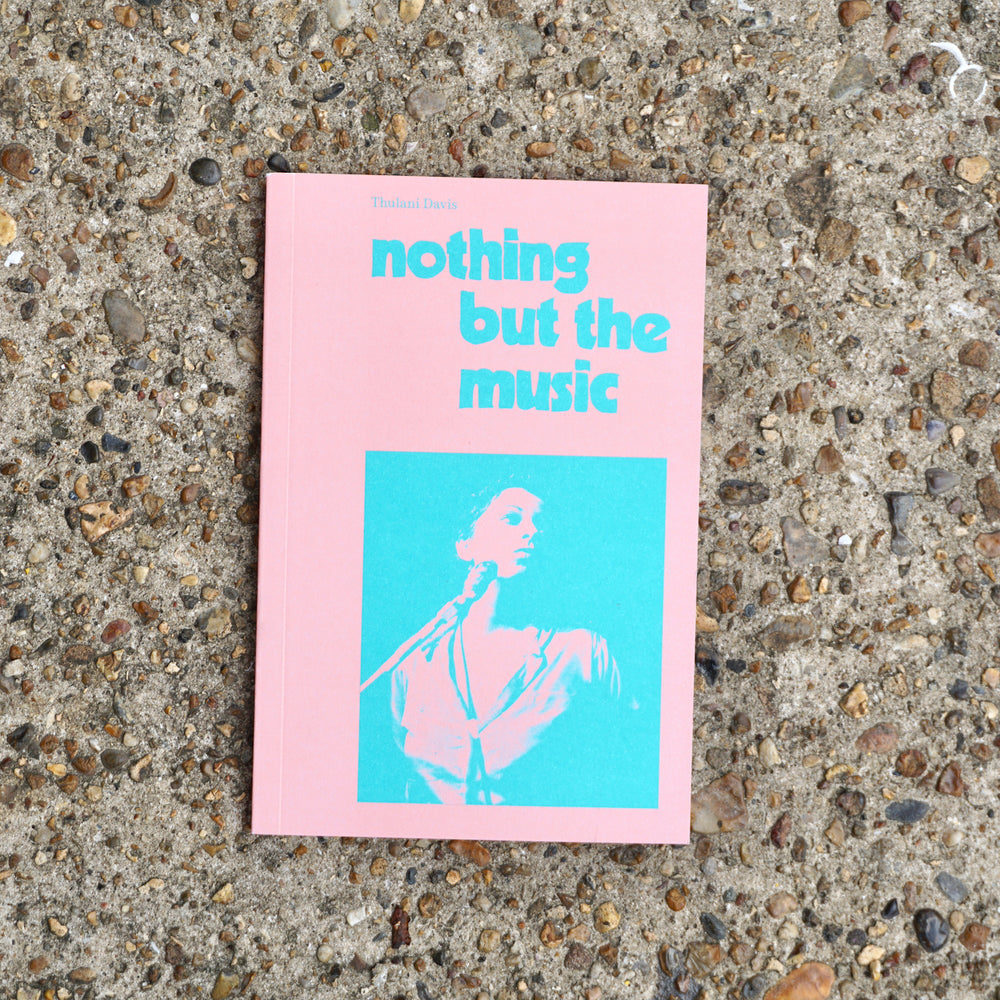 NOTHING BUT THE MUSIC by Thulani Davis
| | |
| --- | --- |
| Title | Nothing but the Music |
| Author(s)/Editor(s) | Thulani Davis |
| Publisher | Blank Forms Editions |
| Pages | 63 |
| Dimensions | 130 x 190 mm |
| Format | Softcover |
| Year | 2020 |
The sounds of late '70s and '80s east coast avant-garde jazz, soul, and punk rock are well documented, but in Nothing but the Music Thulani Davis gives us something beyond, delivering a collection of synesthetic, transportive documentary poems that breathe anecdotal and impressionistic life into a sonic-social history about which most can only speculate. Davis' verse takes free flight with its muses, scatting and leaping off the page and the shoulders of the musicians, nightclubs, and choreographers she chronicles in these poems. Her odes both to recorded music and its sacred spaces of spirited encounter are at once a paean to ephemeral flashes of embodied experience and a work of preservation. Davis remembers to remember the raw feelings, smoke, dawn drunks, and impulsive energy of her moment, without forgetting its inscription into a broader political urgency.
Written between 1974 and 1992, these poems are the most anthologized pieces of Davis' work, having appeared in numerous collections of writing on black music, here finally assembled for the first time. Nothing but the Music is further proof of Davis' place as a crucial figure, alongside poets Jayne Cortez, Sonia Sanchez, and Ntozake Shange, in the cultural landscape surrounding the Black Arts Movement. Featured musicians and dancers include Cecil Taylor, the Art Ensemble of Chicago, Bad Brains, Henry Threadgill, Thelonious Monk, The Revolutionary Ensemble, The Commodores, MFSB, Dianne McIntyre, Ishmael Houston-Jones, and many more in performances at historic venues such as The Five Spot, The Village Vanguard, The Apollo, Storyville, and Club Harlem.
With a foreword by Jessica Hagedorn and an introduction by Tobi Haslett.
Thulani Davis (b. 1949) is an interdisciplinary artist and scholar whose work includes works of poetry, theater, journalism, history, and film. Her engagement with African American life, culture, and history is distinguished by poetic economy, passionate musicality, and an investigative concern for justice. While a student at Barnard College, the Virginia native was "schooled" for her first spoken word performance by Gylan Kain and Felipe Luciano of the Original Last Poets, jumpstarting a life of performance that would have her put words to music by Cecil Taylor, Joseph Jarman, Juju, Arthur Blythe, Miya Masaoka, David Murray, Henry Threadgill, Tania León, and others. Living in San Francisco in the '70s, she joined the Third World Artists Collective, collaborated with Ntozake Shange, and worked for the San Francisco Sun-Reporter, reporting on stories such as the Soledad Brothers trial and the Angela Davis case before returning to New York and continuing to incite radical political thought as a reporter and critic for the Village Voice for over a decade. This experience as a journalist blazes through her historical fiction and her other writing, breathing anecdotal life into the experiences of actors of American history who have remained unnamed as a result of bondage and other unjust erasures. Davis has collaborated with her cousin, composer Anthony Davis, writing the libretti for the operas X, The Life and Times of Malcolm X and Amistad, and wrote the scripts for the films Paid in Full and Maker of Saints, as well as several award-winning PBS documentaries. In 1993, her writing for Aretha Franklin's Queen of Soul – The Atlantic Recordings made her the first woman to win a Grammy for liner notes, and her bibliography additionally includes My Confederate Kinfolk, novels 1959 and Maker of Saints, and several works of poetry. She is an ordained Buddhist priest in the Jodo Shinshu sect, founded the Brooklyn Buddhist Association with her husband Joseph Jarman, and is currently an Assistant Professor in the Department of Afro-American Studies and a Nellie Y. McKay Fellow at the University of Wisconsin. Davis continues to explore the relationship between music and language as well as the ways we define being American and deal with race with her forthcoming book The Emancipation Circuit: Black Activism Forging a Culture of Freedom (Duke University Press) and poetry collection Nothing but the Music: Documentaries from Nightclubs, Lofts, Dance Halls & A Tailor's Shop in Dakar (Blank Forms Editions).
Poet, novelist, playwright, and performer Jessica Hagedorn was born and raised in the Philippines and came to the United States in her early teens. She is the editor of numerous anthologies and author of several books including Dogeaters, winner of the American Book Award and a finalist for the National Book Award. In the seventies and early eighties, she collaborated with Thulani Davis on multimedia performance pieces presented at downtown venues such as The Public Theater and The Kitchen.
Critic and essayist Tobi Haslett has written about art, film, and literature for n+1, the New Yorker, Artforum, the Village Voice, and elsewhere.