UNKNOWN LANGUAGE by Hildegard of Bingen, Huw Lemmey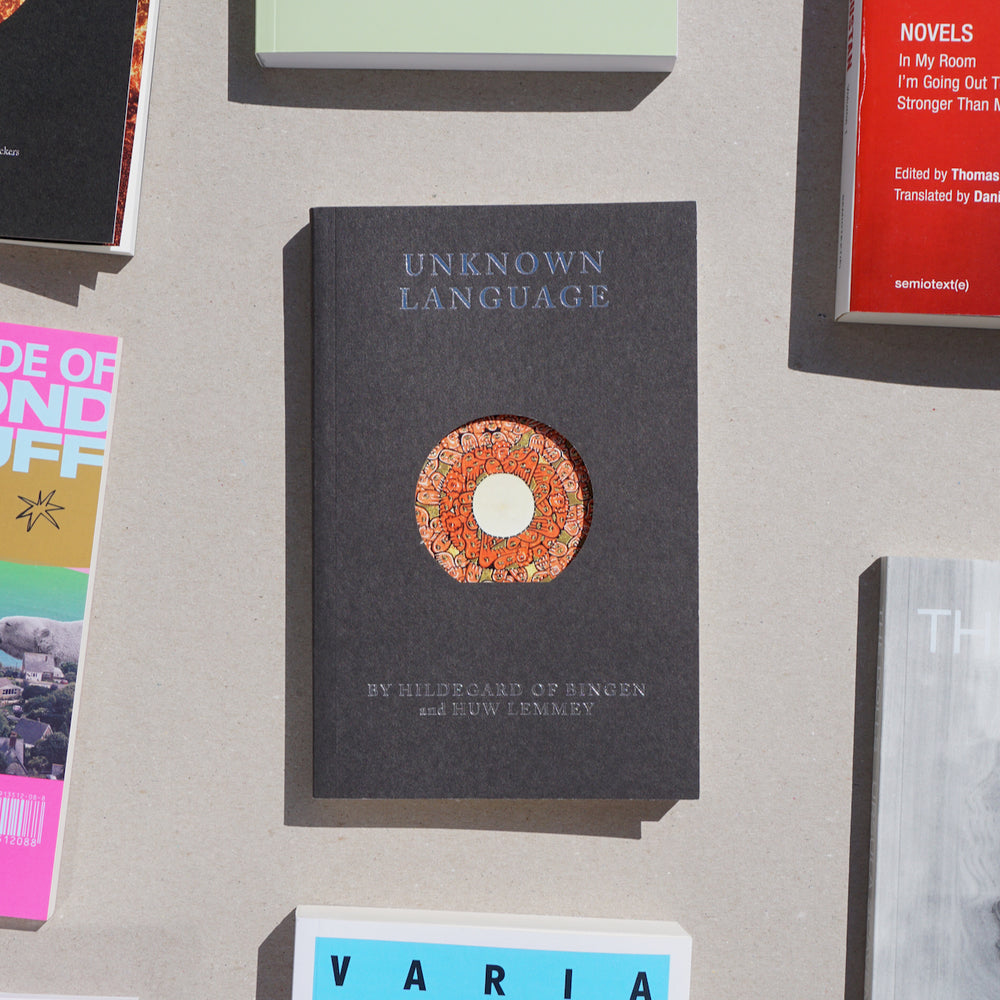 UNKNOWN LANGUAGE by Hildegard of Bingen, Huw Lemmey
| | |
| --- | --- |
| Title | Unknown Language |
| Author(s)/Editor(s) | Hildegard of Bingen, Huw Lemmey |
| Publisher | Ignota |
| Pages | 232 |
| Dimensions | 130 x 197 mm |
| Format | Softcover |
| Year | 2020 |
A mutant fiction of speculative mysticism.
Long before the collapse of the Information Age, in the twelfth century since the appearance of the prophet Christ, young Hildegard finds grace.
In this story of survival and miracles, Hildegard encounters love, both queer and divine, and great peril. As the visionary healer travels through the unfamiliar landscape following a great cataclysm, she discovers the mythic quantum energy of viriditas in the natural world around her. Her journey becomes one of return, to the sacred truth of her own being.
Hildegard's tale is received in the plague year of 2020 by Alice Spawls, and then in the next century, in a sea cave with cracked amethyst walls. On planet Avaaz, once known as Earth, Bhanu Kapil's Pinky Agarwalia finds fragments of a beautiful codex. Lingua Ignota, Hildegard's unknown language, bears seeds of renewal for a world in flux.
The polymath Hildegard of Bingen (1098-17 September 1179) was a mystic, scientist, composer, herbalist and inventor of one of the earliest known constructed languages by a woman. Born in the Rhineland, Hildegard was educated from the age of eight at the Benedictine monastery at Mount St Disibode, later becoming an Abbess. She experienced prophetic visions since childhood and spent many years writing the visionary works Scivias, Liber Vitae Meritorum and Liber Divinorum Operum. Unusually for her time, she travelled and preached throughout southern Germany, Switzerland and as far as Paris. She died on 17 September 1179. She was formally canonized in 2012 by Pope Benedict XVI.
Huw Lemmey is a novelist, artist and critic living in Barcelona. He is the author of three novels: Unknown Language, Red Tory: My Corbyn Chemsex Hell (Montez Press, 2019), and Chubz: The Demonization of my Working Arse (Montez Press, 2016). He writes on culture, sexuality and cities for the Guardian, Frieze, Flash Art, Tribune, TANK, The Architectural Review, Art Monthly, New Humanist, Rhizome, The White Review, and L'Uomo Vogue, amongst others. He writes the weekly essay series utopian drivel and is the co-host of Bad Gays.
Bhanu Kapil is a poet and an artist by-fellow of Churchill College, Cambridge. Her most recent books are How To Wash A Heart (Pavillion Poetry, 2020) and a new edition of Incubation: A Space for Monsters (Kelsey Street Press, 2020). She is also the author of Ban en Banlieue (Nightboat Books, 2016), Schizophrene (Nightboat Books, 2011), humanimal [a project for future children] (Kelsey Street Press, 2009), and The Vertical Interrogation of Strangers (Kelsey Street Press, 2001). In 2020, Kapil received the Windham Campbell Prize for Poetry from Yale University and the Cholmondeley Award for Poetry from the Society of Authors.
Alice Spawls is a writer and editor at the London Review of Books. She is a co-founder of Silver Press, the feminist publisher.