WEIRD FUCKS by Lynn Tillman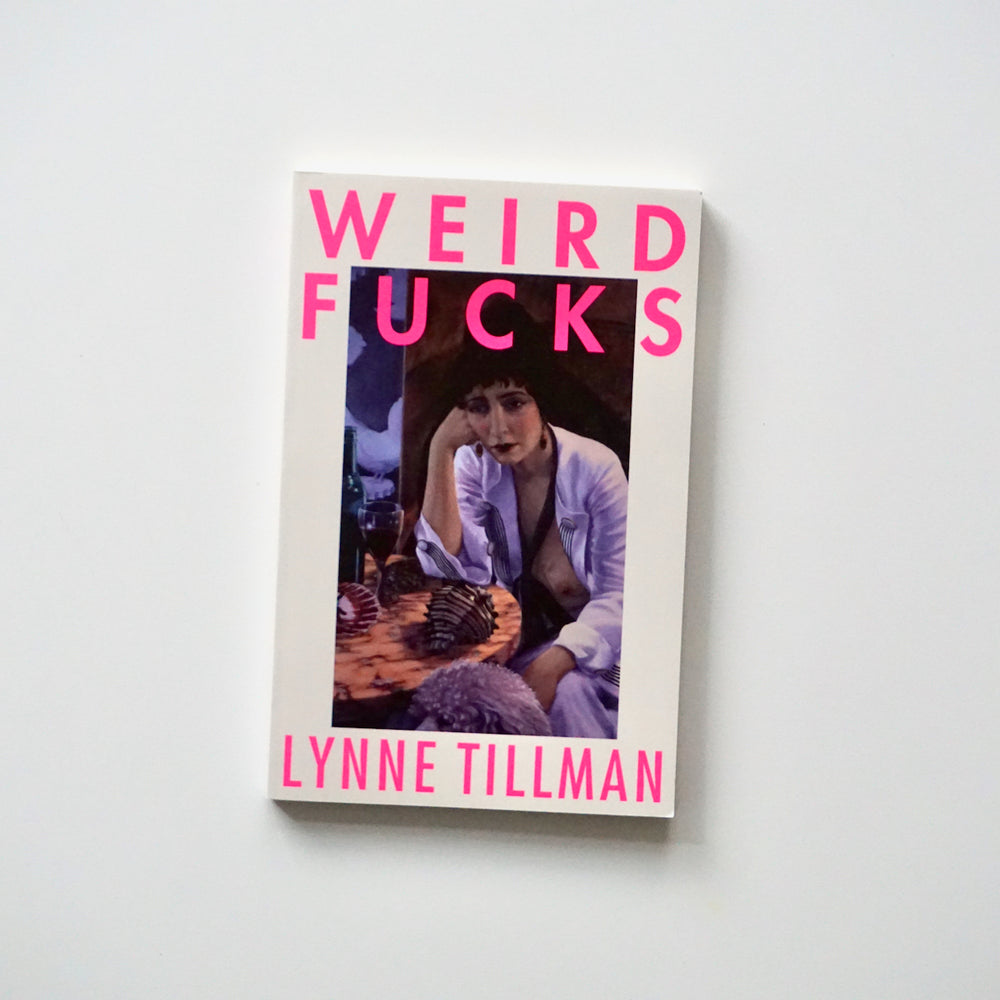 WEIRD FUCKS by Lynn Tillman
| | |
| --- | --- |
| Title | Weird Fucks |
| Author(s)/Editor(s) | Lynne Tillman |
| Publisher | Peninsula Press |
| Pages | 108 |
| Dimensions | 199 x 129 mm |
| Format | Softcover |
| Year | 2021 |
A young woman drifts through dimly lit bars and rented rooms, reporting from the erogenous zones of New York and Europe. Encountering increasingly bizarre sexual situations, she turns her curious, comic, and fierce eye onto the contemporary world of sex and desire.
The men of this world evade and simper, they prey, preen, and fall hopelessly in love. In the narrator's deadpan portraits, we see young women indulging their freedom through hope and disappointment, and young men wearing various guises of masculinity.
This novella surprises with unlikely fucks, disturbing fucks, outlandish fucks, and some truly weird fucks – all written with the smart, elegant, and tough style which could only be that of Lynne Tillman.
'Weird Fucks. Killer sentences. This sex is hilarious, this sex is devastating, this sex is life. Lynne Tillman is the greatest.' Charlie Porter
'Many early signs of Lynne Tillman's magnificent uniqueness are here on display: the deadpan humour, the wonderful telegraphic prose, the sure-fire wit, and a piercing anthropological gaze from which no one is spared. This first novella of hers is devastating and exhilarating in equal measure.' Chloe Aridjis
'Weird Fucks is brilliant, witty, economical, disturbing, delicious, devastating, devastatingly funny, surprising, revealing, reassuring, elegant, brutal, inevitable, cosmic.' Harry Mathews
'Weird Fucks is better than sex, it's a literary mindfuck, it blew me away…' Stewart Home
Lynne Tillman writes novels, short stories, essays, and criticism. Her novel No Lease on Life was a finalist for a National Book Critics Circle Award in Fiction, and her essay collection What Would Lynne Tillman Do? a finalist for the National Book Critics Circle Award in Criticism. She frequently writes fiction and essays for artists' books and museum catalogues, most recently for Raymond Pettibon, Joan Jonas, Cindy Sherman, and Carroll Dunham. She is a recipient of a Guggenheim Fellowship and a Creative Capital/Warhol Foundation Grant for Arts Writing, and is a Professor/Writer-in-Residence in the English Department at the University of Albany. In 2021, a selected collection of Tillman's short stories will appear from Soft Skull Press, and a new collection of art essays published by David Zwirner Books. She lives in Manhattan with the bass player David Hofstra.