AIR AGE BLUEPRINT By K Allado-McDowell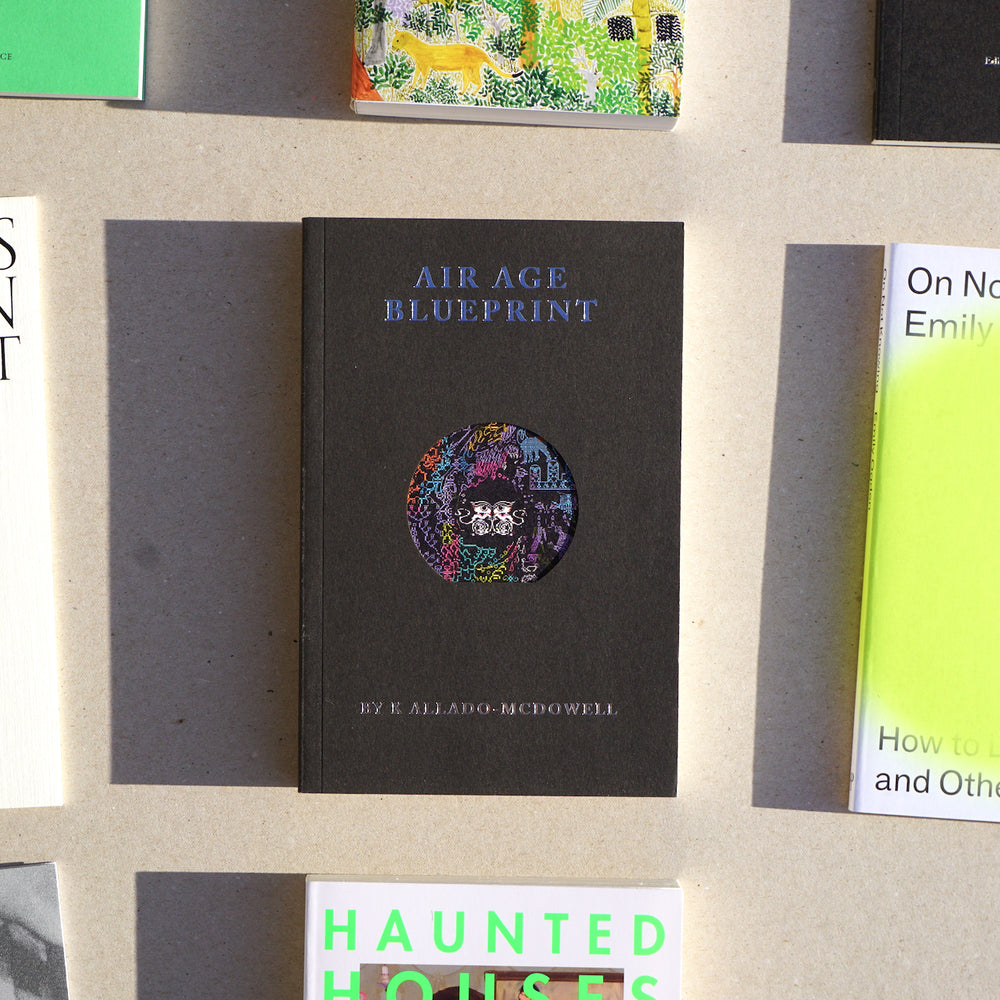 AIR AGE BLUEPRINT By K Allado-McDowell
| | |
| --- | --- |
| Title | Air Age Blueprint |
| Author(s)/Editor(s) | K Allado-McDowell |
| Publisher | Ignota |
| Pages | 120 |
| Dimensions | 130 x 197 mm |
| Format | Softcover |
| Year | 2023 |
A young filmmaker's life is disrupted by a fated encounter with a Peruvian healer. Called to twin paths of artistic creation and mystic truth-seeking, they set out on a transcontinental journey. In the Pacific Northwest they meet K, a double agent working between art and technology, who invites them to test a secret program called Shaman.AI. This human-machine experiment, rooted in magic, produces a key to rewriting reality – a manifesto describing how entangled human and non-human intelligence will remake our technologies, identities and deepest beliefs.

Allado-McDowell (along with their AI writing partner GPT-3) weave fiction, memoir, theory and travelogue into an animist cybernetics – an air age blueprint.

Cover art by Somnath Bhatt

'Air Age Blueprint inaugurates a new stage in twenty-first century AI writing. K Allado-McDowell's book has come into being through a collaboration between different forms of intelligence and its story presents a continuation of its own making – a coming together of different forms of existence and thought.'—Hans Ulrich Obrist

'Air Age Blueprint elegantly weaves immigrant family histories, native entheogenic cultures, and cybernetic manifestos of social revolution into a collaborative human-machine writing adventure. It certainly opens a portal to a de-anthropocentric narrative of the future. An unquestionable tour-de-force.' —Chen Qiufan author of The Waste Tide and AI 2041: Ten Visions for Our Future

'Air Age Blueprint is a visionary book, a map of cognitive experiments, amplifying possibilities for otherness to manifest, contaminating self and belief, and rewriting transformational roads. Co-writers K Allado-McDowell and their AI companion have hallucinated an animistic techne, a spirit pollinator, a portal for human and non-human to correspond beyond their self-centred worlds.'—Pierre Huyghe

'At once futuristic and suspended in time, Air Age Blueprint is a rich meditation, remarkable field manual and work of techno-sorcery for our Aquarian times. Existing in the last gasps of our failing contemporaneity, we are presented with a portrait of a poet and seeker looking into the scrying mirror of an AI companion. Through this journey, we reemerge as readers: transformed, shaky, hallucinating and left wondering – who is the mirror and who is the object? Air Age Blueprint is the magical work I didn't know I needed to read.'—Xiaowei Wang, author of Blockchain Chicken Farm

'Air Age Blueprint is a technoerotic mystery tale, with pagan sacraments and data-veins of living blood. In their journey onwards from intimate, raw childhood pain inflicted by a priest, they encounter intelligences both artificial and organic. The narrative races through text generated by AI alongside the author's poetic voice. This personal memoir/ontological map/philosophical treatise aims to reconcile language and silence, kundalini and the NSA, lithium springs and coffee, floral stigmas and human stigmas, exorcism and absolution, anarchy and control, ancestors and potentialities, magic and method.'—Kathelin Gray, writer and founder of Theatre of All Possibilities, Institute of Ecotechnics, Biosphere 2

K Allado-McDowell is a writer, speaker, and consultant to cultural, artistic, and technological institutions that seek to align their work with larger traditions of human understanding. Allado-McDowell established the Artists + Machine Intelligence program at Google AI. They are the co-editor, with Ben Vickers, of The Atlas of Anomalous AI. Allado-McDowell records and releases music under the name Qenric.