I'M AFRAID THAT'S ALL WE'VE GOT TIME FOR by Jen Calleja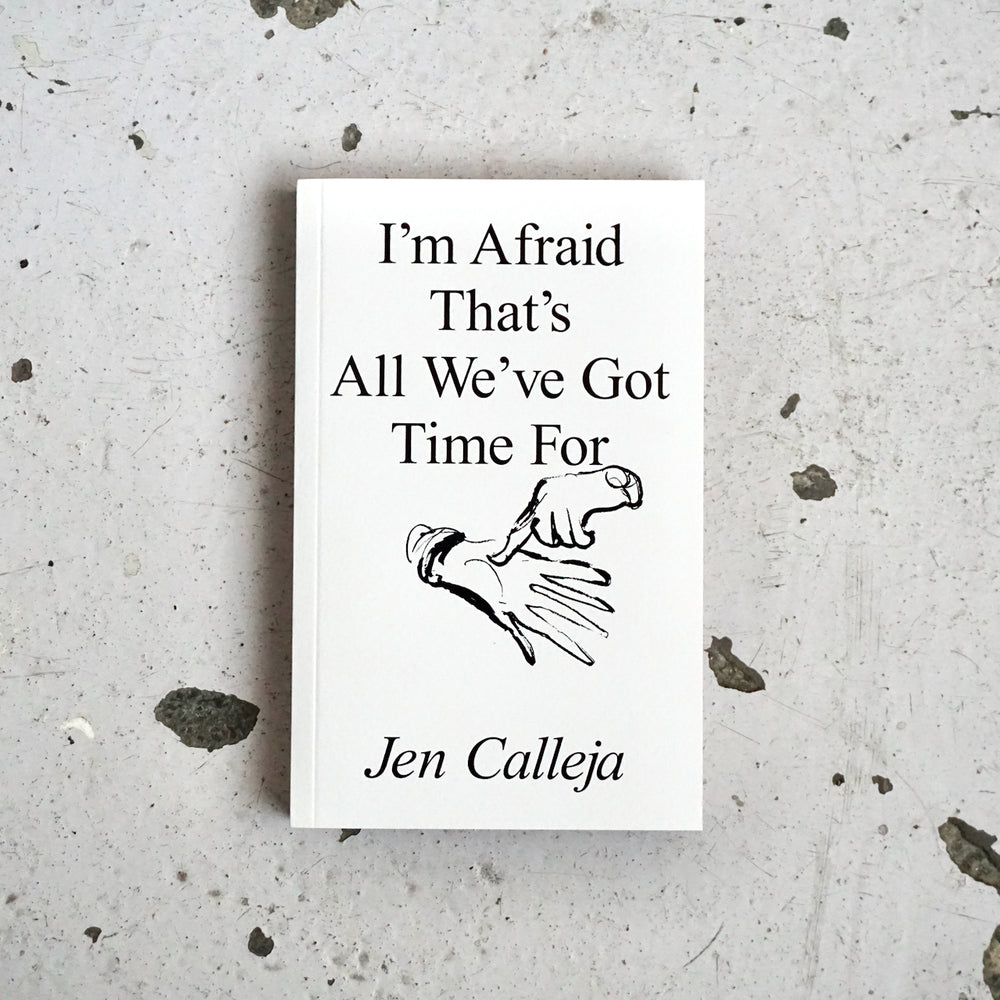 I'M AFRAID THAT'S ALL WE'VE GOT TIME FOR by Jen Calleja
| | |
| --- | --- |
| Title | I'm Afraid That's All We've Got Time For |
| Author(s)/Editor(s) | Jen Calleja |
| Publisher | Prototype |
| Pages | 192 |
| Dimensions | 112 x 178 mm |
| Format | Softcover |
| Year | 2019 |
A novelist questions why she's been shortlisted for the Prize of Prize's Prize; an artist duo has a messy break up; a schoolgirl is saved from a predator by a flash flood and a gang of dead animals; a surgeon has an incurable identity crisis; a budding actor can't see what's so funny; a pregnant food writer gets a craving for luxury consumerism.
These thirteen stories by writer and literary translator Jen Calleja pick apart the hidden motivations behind our desires, and the ways we seek out distraction from difficult truths. They investigate histories, power dynamics, rituals, institutions – the roles we adopt, as well as the ones we inherit.
Known for her acclaimed poetry and translations, and as a performer in numerous bands, these facets manifest in an attention to the latent ambivalence of language, and the nature of storytelling itself. This writing is direct and considered – it asks to be read, read out loud, retold, refashioned into fables with a distinctive mouthfeel.
I'm Afraid that's All We've Got Time For is a sharp, bold, inventive and prescient fictional debut from a versatile and brilliant writer.
Jen Calleja is a writer and literary translator originally from Shoreham-By-Sea, West Sussex, and now based in London. Her debut collection of poetry, Serious Justice, was published by Test Centre (2016), followed by the pamphlet Hamburger in the Archive (If a Leaf Falls Press, 2019). Her short fiction and poetry have appeared in many publications and anthologies including Ambit, 3:AM, Somesuch Stories, Funhouse, Another Gaze, Hotel, Structo, Prototype and Spells: 21st Century Occult Poetry (Ignota, 2018). She was shortlisted for the Man Booker International Prize 2019 for her translation of Marion Poschmann's The Pine Islands (Serpent's Tail) and was the inaugural Translator in Residence at the British Library. She plays or has played in the bands Sauna Youth, Feature, Monotony, and others.