LIMBIC by Peter Scalpello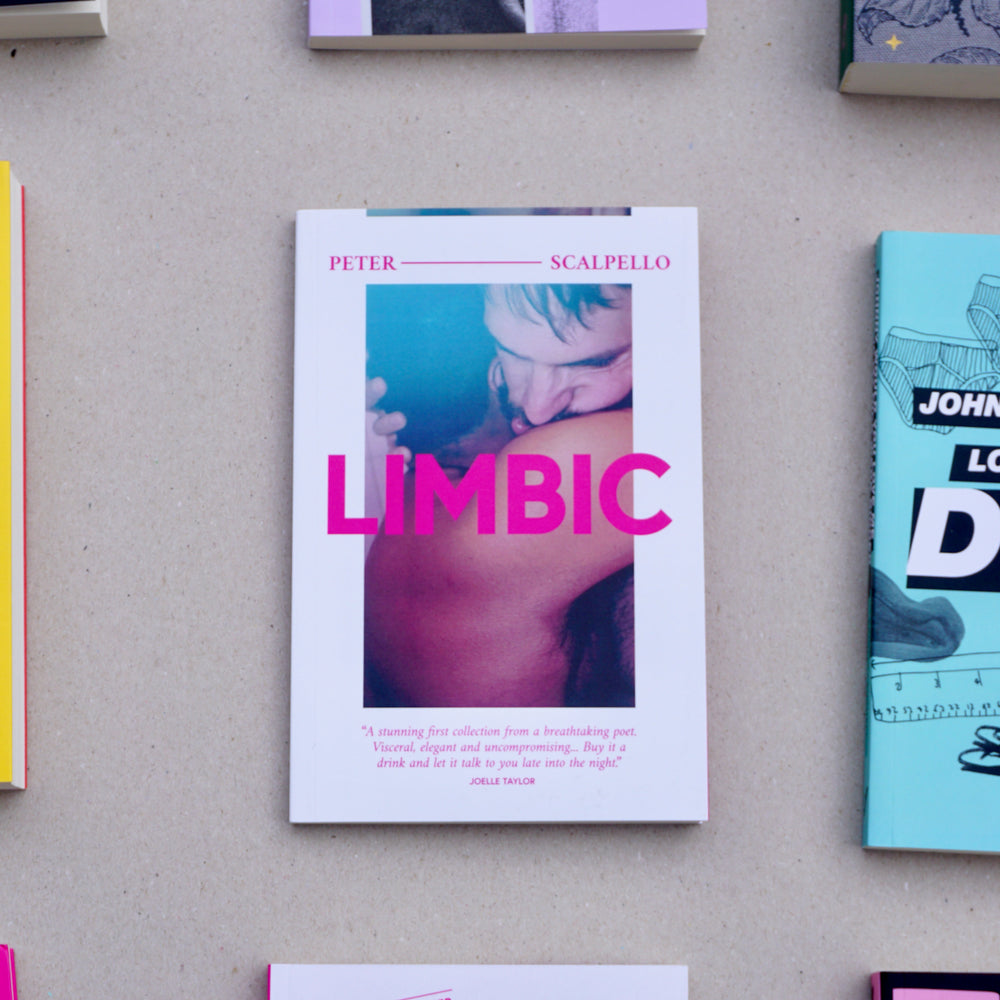 LIMBIC by Peter Scalpello
| | |
| --- | --- |
| Title | LIMBIC |
| Author(s)/Editor(s) | Peter Scalpello |
| Publisher | Cipher Press |
| Pages | 84 |
| Dimensions | 129 x 198 mm |
| Format | Softcover |
| Year | 2022 |
Limbic is Peter Scalpello's glittering ode to sex, intimacy, and queer discovery. Taking us on slippery nights out fuelled by chemsex, on drunken lads' holidays, and into the quiet violence of small domestic moments, this is a world where tracksuits hide queer desire, where shame masks vulnerability, where wallets hide wraps of crystal meth.
From the eager trepidation of teenage sex, to the ecstasy of parties, to the stigma around HIV, Limbic is at once a therapy and a celebration, showing how queer learning can be both soft-edged and brutal at once. An exploration of masculinity, addiction and trauma, this is a revelatory collection of poems; wise, tender, and vital.
Peter Scalpello is a queer poet and sexual health therapist from Glasgow. His poems have been published in Penguin's literary magazine Five Dials, Parspar Press's Scintillas: New Maltese Writing, Pilot Press's A Queer Anthology of Healing and A Queer Anthology of Wilderness, Gutter Magazine, Impossible Archetype, Anthropocene, Fruit Journal, The Selkie, and Queerlings, among others. In 2021 he was nominated for a Forward Prize and Pushcart Prize. In 2020, he was shortlisted for the Creative Future Writers' Award, and longlisted for the Desperate Literature Prize, and the University of East Anglia 'Show Me Yours Prize'. He has performed his poems at events alongside Danez Smith and Andrew McMillan, and has read at Fringe: Queer Film & Arts Festival 2020, Granta's Feminist Erotica readings, Homotopia Festival 2020, and University of Glasgow's Stay at Home Fringe 2020. His pamphlets Acting Out and chem & other poems were published by Broken Sleep Books in 2021. Limbic is his first collection.