THE HAPPY HYPOCRITE: WITHOUT REDUCTION, ISSUE 12 by The Happy Hypocrite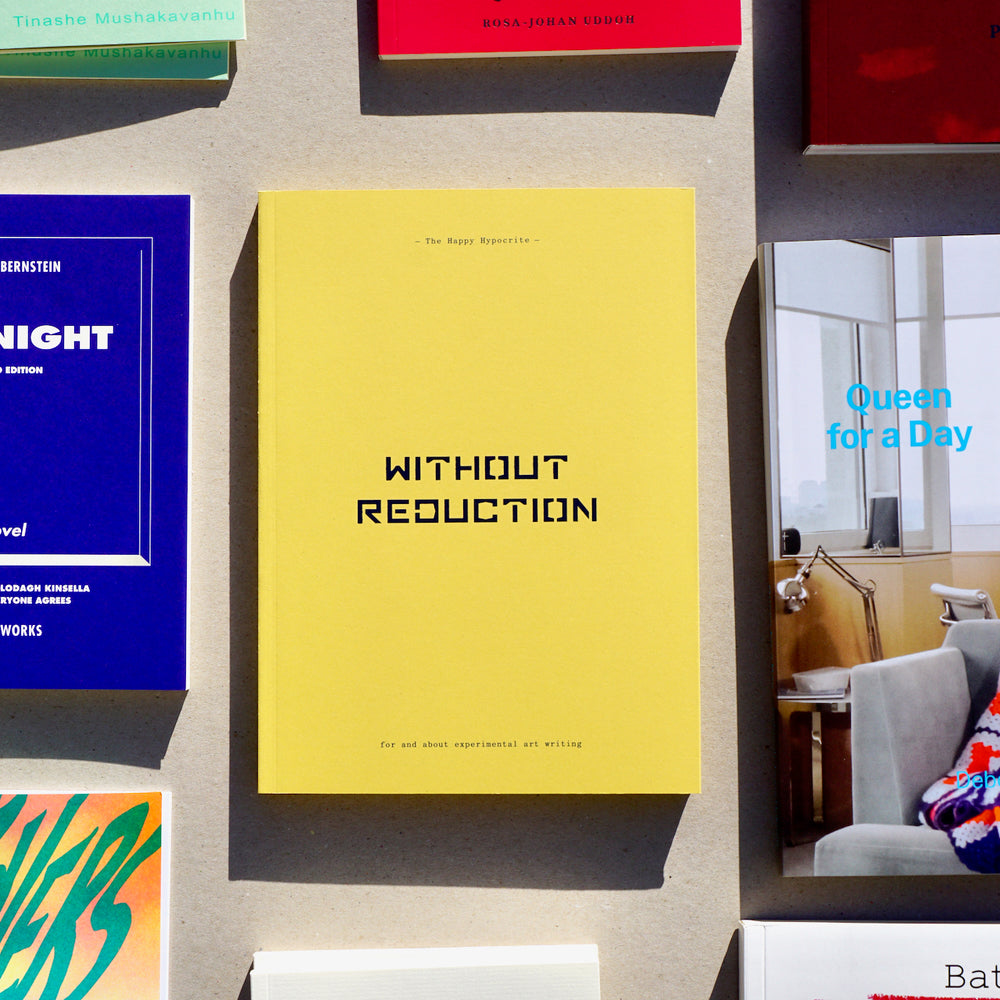 THE HAPPY HYPOCRITE: WITHOUT REDUCTION, ISSUE 12 by The Happy Hypocrite
| | |
| --- | --- |
| Title | The Happy Hypocrite: Without Reduction, issue 12 |
| Author(s)/Editor(s) | Maria Fusco ed. |
| Publisher | Book Works |
| Pages | 188 |
| Dimensions | 167 x 230 mm |
| Format | Softcover |
| Year | 2021 |
'I stole The Happy Hypocrite's title.

Welcome to Without Reduction, the twelfth and final issue of The Happy Hypocrite. I also stole the theme of this issue. From a book I saw in a used bookstore in New Haven, propped up beside a copy of HH issue 1. That book was Quantum Theory Without Reduction edited by Marcello Cini and Jean-Marc Lévy-Leblond. I've chosen my editorial methodology, Without Reduction, because I'm greedy – this issue has more contributions than ever before. […] Can I say with certainty I now have a stable definition of the term experimental art writing? Well can I? No, I cannot. HH has consistently resisted such a demand to anthologise. HH is a symptom.'
– Maria Fusco

Contributors: Maria Fusco; Mohamed Abdelkarim; Andreia Afonso; Leila Al-Yousuf; Alison Ballance; Jordan Baseman; Ohad Ben Shimon; Claire Biddles, Nastya Nikolskaya and Mathew Wayne Parkin; Oisin Byrne; Julia Calver; Anna Chapman Parker; Holly Corfield Carr; Jesse Darling; Daphne de Sonneville; Seán Elder; Seb Emina; Tim Etchells; Carl Gent; Dale Holmes; Adrien Howard and K Patrick; Agnė Jokšė; Sophie Jung; Sumaya Kassim; Rebecca La Marre; Amy Lam; Mohamedali Ltaief; Robert Herbert McClean; Chris McCormack; Susana Medina and Roc Sandford; Joseph Noonan-Ganley; Jaakko Pallasvuo; Joanna Walsh; Siân Williams and Kelly Best.