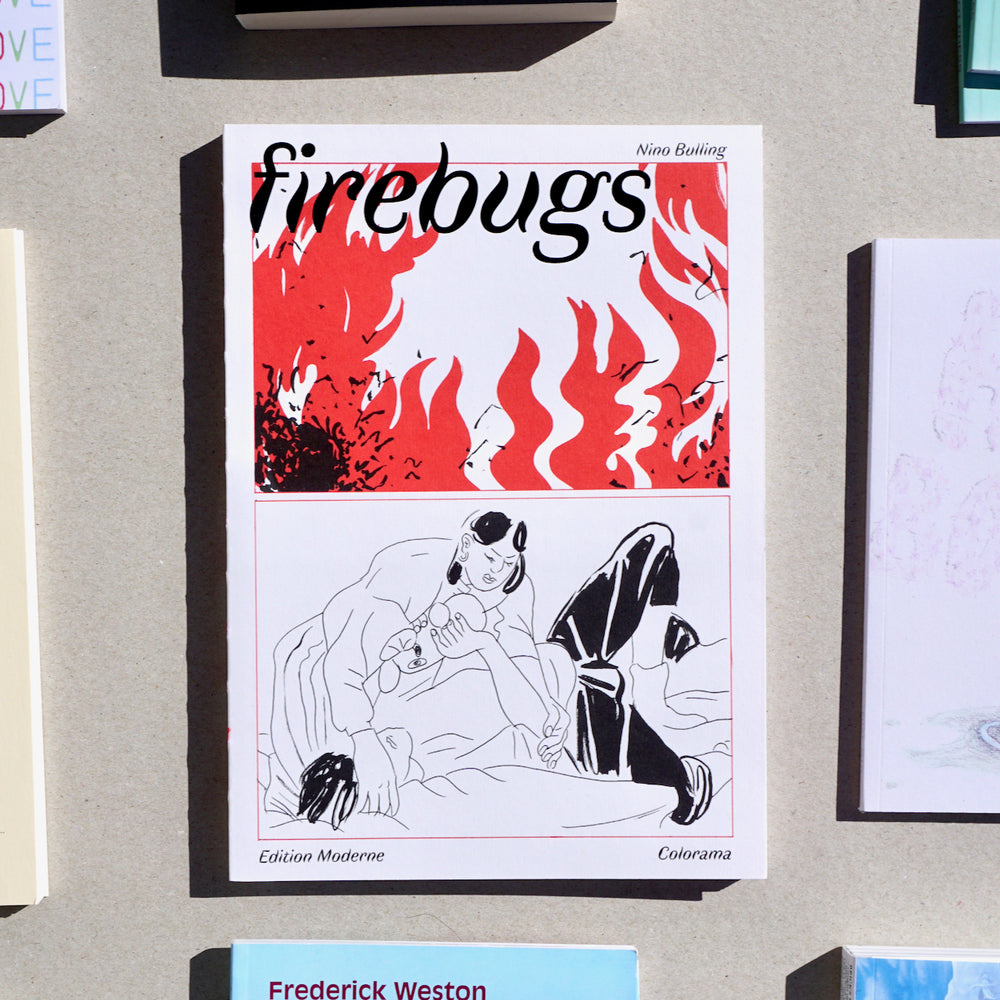 | | |
| --- | --- |
| Title | Firebugs |
| Author(s)/Editor(s) | Nino Bulling |
| Publisher | Edition Moderne, Colorama  |
| Pages | 160 |
| Dimensions | 185 x 250 mm |
| Format | Softcover |
| Year | 2022 |
Actually, everything is perfectly okay. Ingken is together with Lily, who seems to be content with herself and her life. Ingken on the other hand is struggling a lot. Set against the background of global climate change, Ingken is searching for a self-­determined identity, a new name, for the things that can remain as they were and those that have to disappear. What is it that makes us humans? Do we have to burn everything down in order to define ourselves anew? Or can we also hold on to some things?

"'The World Is On Fire'—your own and the real one out there. Bushfires rage in Australia and Ingken's world is thrown off balance. The ecological threat interweaves with fears of change. On this fluid journey to oneself, everything falters and yet is connected. What can we hold on to when we don't know yet how everything might feel right? I like Nino Bulling's way of illuminating complex situations and anchoring them in political dimensions. For me, it becomes great comic art through the fine nuances in the gestures and the vivid sceneries. Whether it's a wild party night, a rural idyll or inner torment, the mood immediately jumps from each page into your own thoughts. That's what I read for." Gesine Claus, Strips & Stories, Bookshop for Graphic Novels, Hamburg.

The comic is co-published with Colorama and part of Nino Bulling's contribution to documenta fifteen.