THE CONTEXT by Alexandro Segade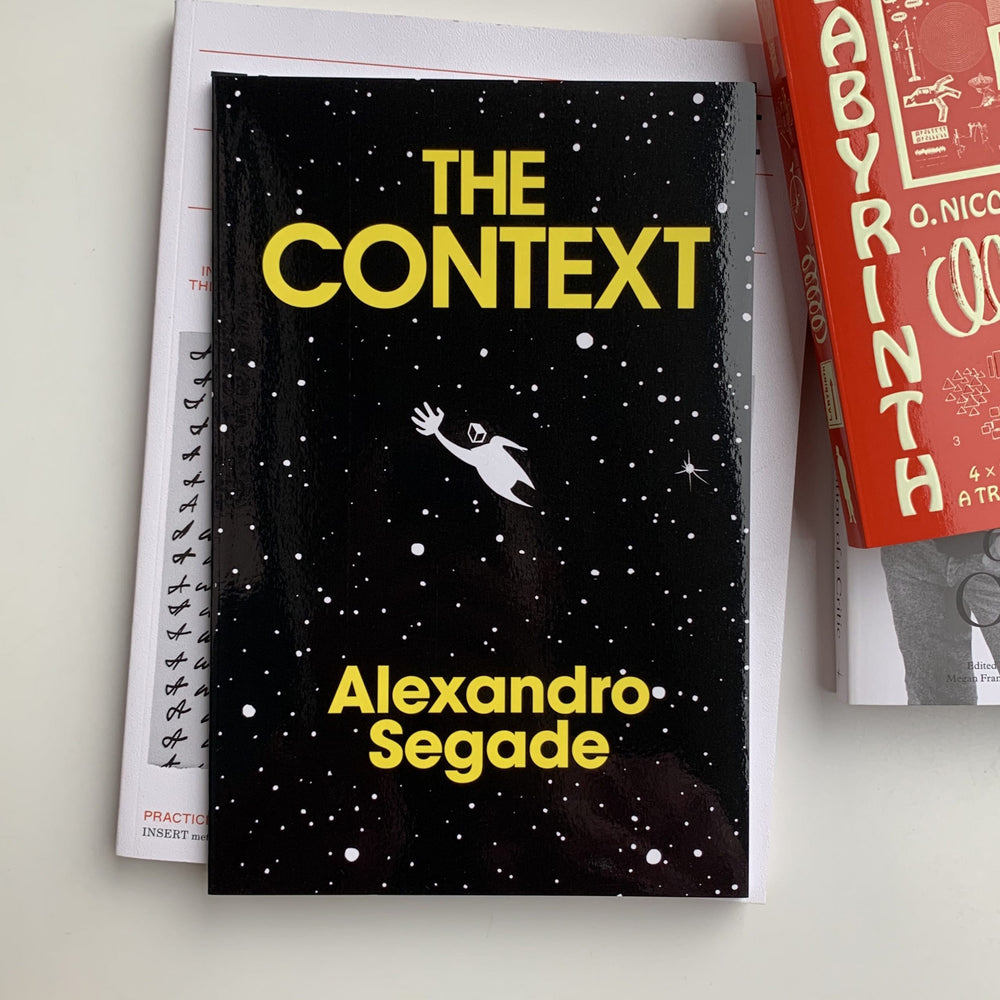 THE CONTEXT by Alexandro Segade
| | |
| --- | --- |
| Title | The Context |
| Author(s)/Editor(s) | Alexandro Segade |
| Publisher | Primary Information |
| Pages | 96 |
| Dimensions | 170 x 260 mm |
| Format | Softcover |
| Year | 2020 |
The Context reimagines the superhero comic book as a queer parable of belonging. The story follows six powerful beings from different worlds who find themselves inexplicably adrift together in an otherwise lifeless void: Biopower, Cathexis, Barelife, Objector, Drives, and Form. The characters, each named for a concept drawn from critical theory, engage one another in skintight fight scenes that often look like sex scenes, and philosophical debates masked as exposition.

As a lifelong fan and a more recent critic of the superhero genre, artist and performer Alexandro Segade approached his first graphic novel as a solo performance, acting out all the roles: writer, penciller, inker, colorist and letterer. The Context considers the form of the graphic novel through conceptual, minimalist, op art, and constructivist aesthetics, while paying homage to the great cosmic comics of the 1970s and '80s: Silver Surfer, Legion of Super Heroes, Green Lantern, Adam Warlock and X-Men (to name a few). A meditation on group dynamics, composed of foreshortened figures in flight set against an endless field of stars, The Context illustrates a vastness that extends past the boundaries of different art forms and ways of being.
Alexandro Segade is an interdisciplinary artist based in New York, whose solo work has been the subject of exhibition at the Broad, REDCAT, LAXART, Yerba Buena Center for the Arts, TBA Festival in Portland, MoMA PS1, Park Avenue Armory in New York City, and Fisher Center for the Performing Arts at Bard College. Since 2000, Segade has worked with Malik Gaines and Jade Gordon in My Barbarian, a performance art collective included in the Whitney Biennial, two Performa Biennials, and the subject of a solo exhibition at the New Museum in 2016 and a forthcoming survey at the Whitney Museum. In 2014, Segade co-founded A.R.M., with Malik Gaines and Robbie Acklen, a collective exploring queer histories. Segade's writing on art, comics, culture and performance has been published in Artforum, Yale Theater Journal, and Queer (Whitechapel: Documents of Contemporary Art), and he is co-host and co producer of queer comics podcast Super Gay! Segade is discipline co-chair of Film / Video at Bard College MFA, and distinguished lecturer in Art and Art History at Hunter College.