THE BOILED IN BETWEEN by Helen Marten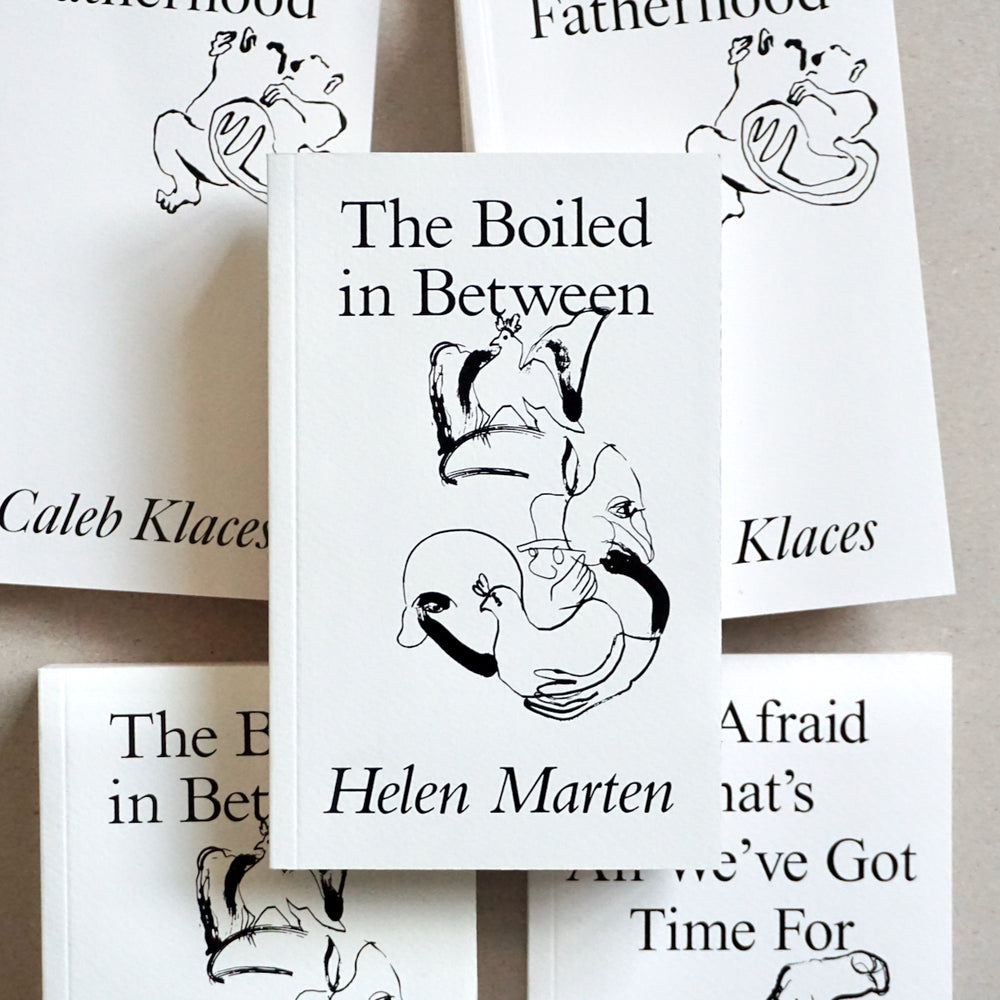 THE BOILED IN BETWEEN by Helen Marten
| | |
| --- | --- |
| Title | The Boiled in Between |
| Author(s)/Editor(s) | Helen Marten |
| Publisher | Prototype |
| Pages | 336 |
| Dimensions | 105 x 180 mm |
| Format | Softcover |
| Year | 2020 |
We are the Messrs. The instruments of psychic observation. We are not the moral function of behaviour, neither analyst nor pulse. We are spectator, servant and clown. We are animal, vegetable, mineral. Our flight takes us everywhere. We are interested. We see broken men and women, and cast the spaces in between. We found these two, Ethan and Patrice, and bedded down to watch them squeal.
The Boiled in Between is the debut novel by Turner Prize-winning artist Helen Marten, an ambitious literary work full of beauty and sorrow. It is a novel told in the action of persistence and questioning: how the rhythms of a world built upon metaphor and symbolism can collide with relationships personal and domestic.
Spliced between three voices, the narrative is a project always in movement, its characters traversing the in-betweens. The psychic excitements of wind, dust and weather merge with alchemical interior voices, all of them indexes of the universe's microscopic pornography, a fitful map of language and human systems. Philosophic and tactile, humorous and unrelenting, The Boiled in Between ignites new meaning for people and terms of living that have long ceased to astonish us.
Helen Marten is an artist based in London. She studied at the Ruskin School of Fine Art, University of Oxford and Central St. Martins, London. In recent years she has presented solo exhibitions at the Serpentine Gallery, London; Fridericianum, Kassel; CCS Bard, Hessel Museum, New York; Kunsthalle Zürich and Palais de Tokyo, Paris, among others. She was included in the 55th and 56th International Venice Biennales and in 2016 won both the Turner Prize and the inaugural Hepworth Prize for Sculpture. Marten's work can be found in public collections including Tate Collection, London; Guggenheim Museum, New York and The Museum of Modern Art, New York. She has forthcoming solo exhibitions at Castello di Rivoli, Turin and Kunsthaus Bregenz. Marten's artwork is collected in three recent monographs and she works with Sadie Coles HQ, London, Greene Naftali, NYC, and König Galerie, Berlin.